Help out at North House and earn course credit!
The Work Study Program at North House Folk School is an incentivized program through which folks can earn credit towards taking classes by helping out with less-glamorous but highly valued functions of the school. Work Study is part of the North House Accessibility Program.
North House offers two varieties of work study: weekly drop-in and extended sessions. Participants in both types earn an hour of course credit for each hour worked. Read on to learn more!
Weekly Drop-in Work Study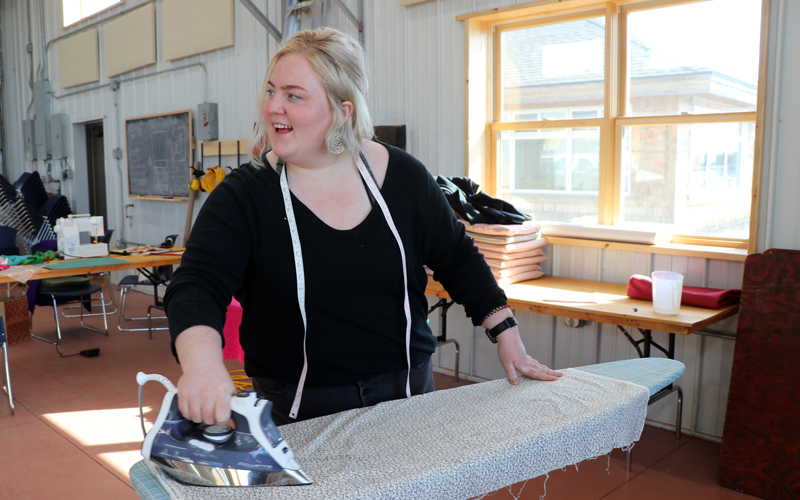 Wednesday Work Study program
Each Wednesday at 1pm, a dedicated crew gathers to keep campus moving forward – everything from classroom set-up to deep cleaning; landscaping to recycling. Everyone is welcome — no application or pre-registration required! Just come down to the Blue Building on the North House campus and we will put you to work for two to three hours.
Work Study participants will have to follow our Covid Policies. Please contact Alex at ablust@northhouse.org if there are any questions.
Each hour of work on campus earns one hour of class tuition. Bonus Work Study credit is awarded to anyone who attends three Wednesdays of the same month.
Extended Session Work Study
North House offers extended work study sessions of one to three weeks for those that seek a deeper engagement with campus life. These sessions integrate courses with work on campus. Several of these are built around larger events or craft-specific weeks, encouraging a rich connection with like-minded instructors, students, and visitors. Anyone may sign up for Work Study. That said, Work Study is a key strategy for ensuring programs are financially accessible to everyone.
Lodging will be provided during your stay. Expect to earn 24 to 32 hours of work study credit per week. Extended session participants should come prepared to work outside and in, also willing and physically capable of completing a wide range of projects. Setting up classrooms, sweeping floors, washing windows, moving tables, cleaning bathrooms, mowing lawns, watering gardens, digging holes, folding letters and more!
In addition to your work on campus and time in the classroom, you'll have plenty of time to explore the Grand Marais area and plug into the local community.
Work Study participants will have to follow our Covid Policies. Please contact the Program Manager if there are any questions.
Extended Session Schedule & Application
Questions or issues using this form? Please contact the Classroom Manager, Alex Blust at ablust@northhouse.org or call 218-387-9762.
Latest Update:

View recent changes →