Busy Busy Weekend
North House Folk Schoool is open all year-round, but summer is definitely our "busy season." This weekend is no exception. Most everybody in Grand Marais is down in the harbor either watching or paddling in the Dragonboats - North House's own team finished first in the heats and was beat by a hair by WTIP on the last race. On campus we have students baking, timberframing, photographing and blacksmithing. We have visitors coming by for a browse through the school store, or a ride on the Schooner Hjordis. People are buying tickets for a chance to win a gorgeous hand-made solo canoe. So stop in, say "hi" and visit a while. For those of us stuck inside on sunny days, it's nice to have some company!
I got to watch the first race from North House's dock. So close, but the breakwater was a bit in the way.
Rustic Breads in the Brick Oven this weekend will be the class to take our NEW oversize oven on its inaugural run.
Blacksmithing: The Basics and Beyond. Very hot, very bright. Very fun.
Finishing up a BYO Timberframe - look at all those woodchips fly!
Tomorrow is the last day for the photography class, so all the students are studiously staring at their computers, looking for the best ten pictures to share with the class in the morning.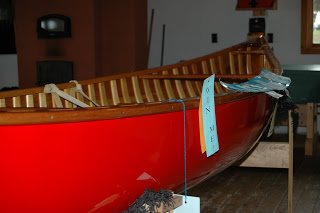 Win this Canoe! Buy a raffle ticket, only $10. Drawing is in October. They've been going like hotcakes - get yours soon!
No matter how many times you see it on the lake, the Hjordis is a sight. (And even more fun to ride on.)
And that brings us to almost 5 o'clock, and the end of the workday. Time to catch the end of the dragonboat races!