Happy Anniversary
Well, it's about that time of year...we have just passed the halfway point of the 2011 North House Folk School Program Internship. Such a milestone. It kind of silently crept up on us, but now it's like a switch has been flipped. All of sudden, in the past couple weeks, it seems like everyone is asking "What are you doing next?" and their brothers are asking "What is the internship like? How do I apply?" A little crazy, that we're thinking about November, December, January and it's only July, but that's how the wonderful world of job-searching goes. I should know this, as this is the longest job I've had since graduating college 3 1/2 years ago.
And maybe working 10-month positions is nicer than 4-month, because right now I feel nothing but excitement about all the possibilities for next year. Where do I want to live? What do I want to do? If I've learned nothing else here it's that "The possibilities are endless."
With planning for the future comes also reflection on the past. For me, this means going through the journal I've sporadically been keeping since I first got here and remembering what it was like to take Cabinet-making during Orientation back in February. My first impressions of the many many faces I've come to know over the past few months. And snow! There were feet of snow everywhere and green grass was a distant dream.
Remember, when it was still winter?
And when we were pining and pining for summer to come?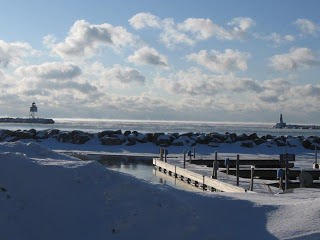 I think I took a picture of the lake every five days out of seven for the first two months I was here.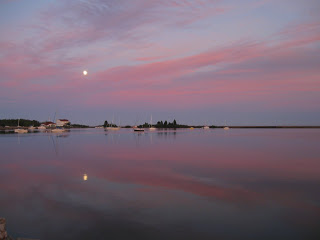 Of course, now I still do quite a bit (though maybe not THAT much anymore). Every day it's different. And gorgeous.
So, here's to the last five months, and another five more (well, four and half, technically I suppose). Stay tuned for Winterer's Gathering and the Intern OpenHouse, where we get to show off everything we have done/will do this year. I've already learned to make fire, mukluks, soap, tinctures, butter paddles, japanese toolbox, birch bark rings, cattail baskets, birch bark baskets, mosaics...looking forward to what the rest of the year will bring.