Wish You Were Here! Scandinavia Update
Each year, Resident Artisans in their final year of ADP travel to Scandinavia and other Nordic countries to learn more about craft. In this post, Laura Brown writes about the first week of her adventures abroad.
It's hard to believe that just a week ago I was nodding off uncontrollably on a sofa in the common room of an Icelandic hostel while I waited for my room to be ready. I have mostly recovered from jet lag, and am now tired enough by my usual 10pm to be ready for bed.
A lot has happened in the last week, and yet, it has only been a week. Many miles have already been covered, by plane, train, bus, car, and on foot. I want to share everything! But already that would take too long. So how about a few postcard-inspired updates? Pretend these arrived in your mailbox with a handwritten, slightly stream-of consiousness note on the back.
#1: April 28. This is the view out my window at the guest house in Blönduós, Iceland. I drove up today but my plans fell through to visit the textile center (my fault), so tomorrow I will head east to see some museums and sights in Akureyri. This view reminds me of the view out my window in Grand Marais, in that I can see the water, and it is very quiet here. The sun was on the horizon an hour ago, it takes a long time to fully set this far north. I am amazed at how much the landscape here reminds me of the western part of the US: it is wild and mountainous, and extremely windy. The biggest difference is that there is water almost everywhere you look here.
#2: April 29. When I realized my Saturday would be free, I looked up museums of all kinds, thinking it was time to put on my researcher hat and look for textiles and quilts in places that might not be so obvious. I immediately honed in on the Hælid Museum, on the grounds of a former tuberculosis sanitarium south of Akureyri. I thought, where there is a hospital, there are beds, and where there are beds, there might be quilts? There were not, but I did see several examples of different handcrafts that were made by patients while they were staying there, including this knotted rug mystery thing (I'm really not sure what it is). Because did you know that bed can also be a great place to make things from, especially if you don't have another option?
#3: April 29. This image was embroidered by hand and is called Inside the Church at Sólheimar. It is one of a series of embroidered works I saw at the Akureyri Art Museum by an artist named Guðjón Gísli Kristinsson. They were all small, and ranged in subject from landscape to cityscape to interior. Each one is densely sewn and full of tension and energy. I am particularly impressed with the composition on this one, and the details of the Jesus figure, complete with halo, blue sash, and outstretched arms.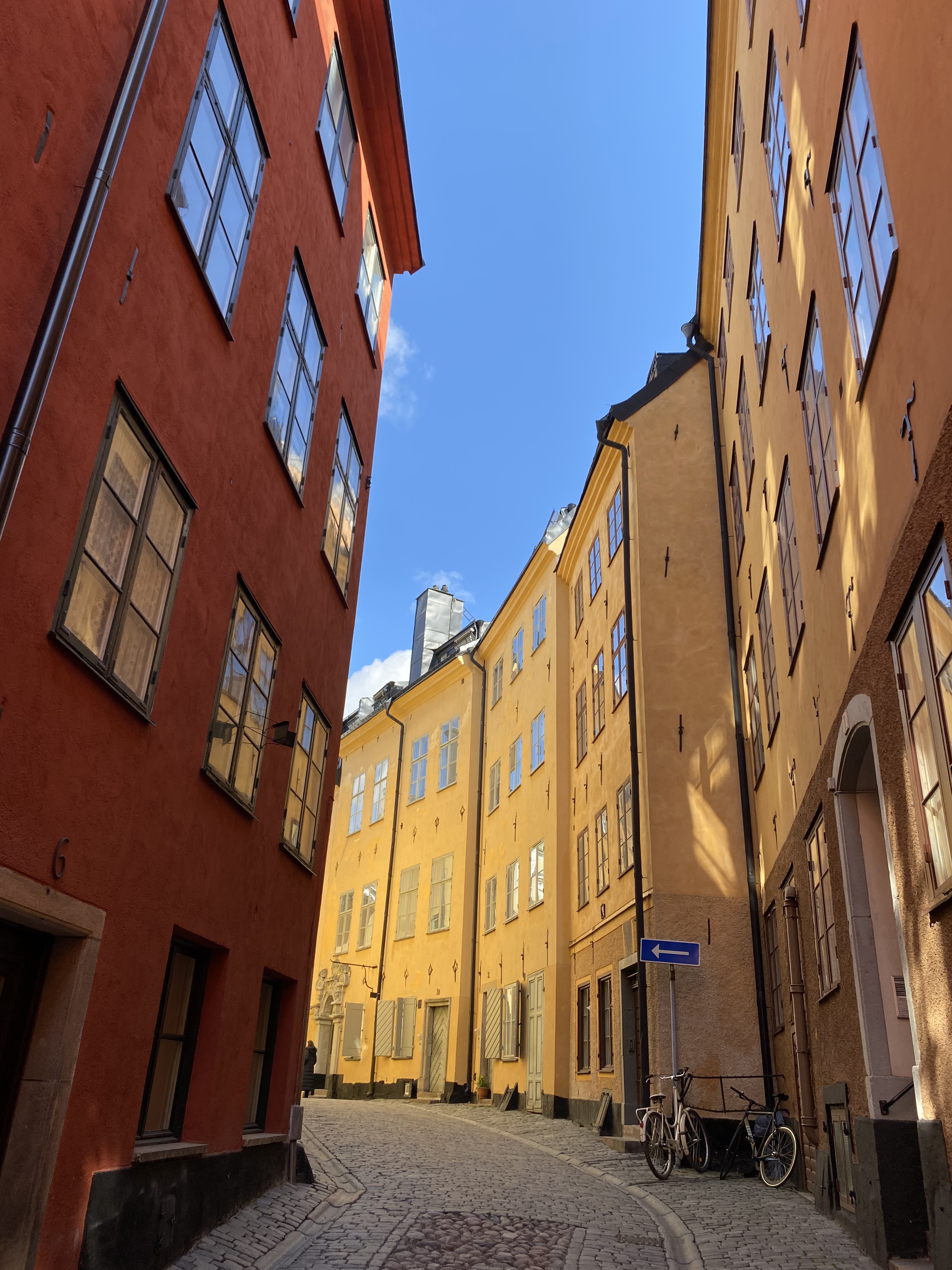 #4: May 3. I made it to Stockholm! After SUCH a windy and cold time in Iceland, I stepped off the train in the middle of Stockholm and breathed a sigh of relief at the relatively balmy temperature of 50 degrees. But here there are flowers growing out of the ground and flowering trees! The light is breathtaking and so many of the buildings are these same colors: red, yellow, blue, pink. The narrow streets mean no traffic noise outside the hostel at night, and navigating these old parts of the city remind me of the last time I traveled in Europe, pre-Google maps.
#5: May 4: I made the quickest visit to the giant open air museum Skansen this morning before hopping on a train to Dalarnas. I was on a mission to see a quilt there, since it was mentioned in Old Swedish Quilts (you know, the guiding light of my residency time). Seeing a quilt at Skansen was what led Åsa Wettre to start asking around about quilting practices in Sweden, so a visit felt appropriate. I am visiting a collection of some of the quilts she wrote about next week, which I am very much looking forward to.
If you want to receive an actual postcard in the mail, I will be spending a couple of days printing some during my trip. You can sign up to receive one through my website if you like.
Until next time!