Looking Back and Moving Forward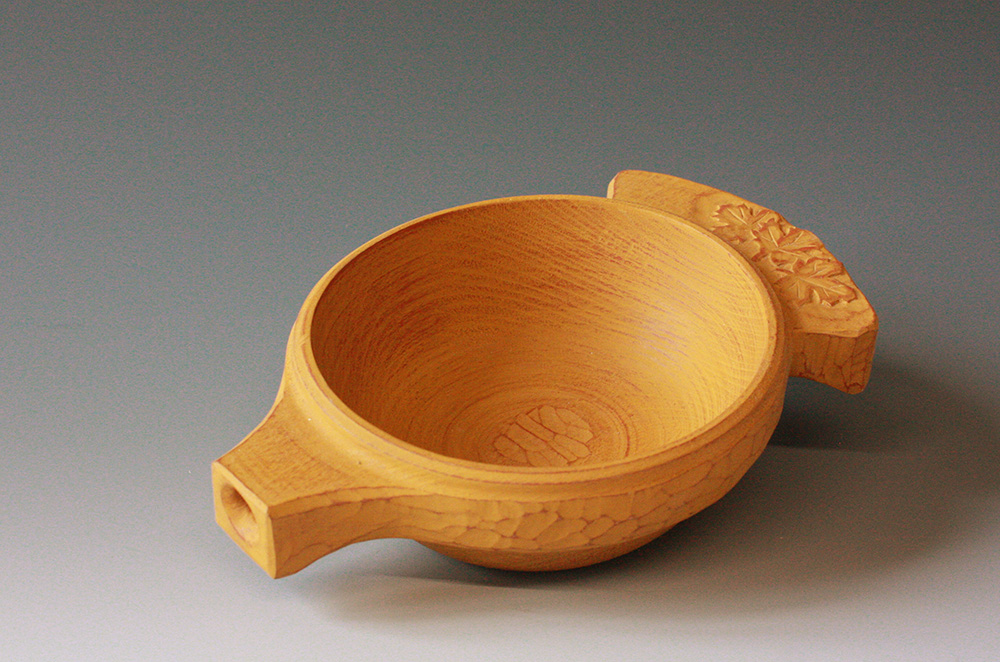 Wow, what a whirlwind these past two years have been! This is the last time you will hear from me on this blog since my time in the Artisan Development Program will be complete at the end of this month.
Posted on December 10, 2019
Wow, what a whirlwind these past two years have been! This is the last time you will hear from me on this blog since my time in the Artisan Development Program will be complete at the end of this month. I have been getting a lot of questions relating to what I will be doing next, what I have taken away from this time in the program, and my program finale, so I am going to be using this post as an overview of all those things!
Where am I going?! My husband and I purchased a home and land outside of Grand Marais this past summer and we will be staying put, hopefully for quite some time. There was a metal pole building on the land, and we have been working hard the past few months to frame it up, insulate, run electricity, put in heat, and make it a comfortable work space for me to continue on my path – making, teaching, selling and exploring the world of craft.
What have I taken away from this time in ADP?! I would have a hard time summarizing that succinctly. Instead what I am going to do is briefly revisit each of my blog posts from these past two years and give an update on where that project stands, what I have learned from it, and what parts of it will be moving forward with me. So - enjoy the journey!
Re-visiting the past: In my very first blog post, I was just getting my studio space set up and was feeling overwhelmed about how to approach my time in this program, so I decided that a good first step was to go through a bunch of old partially-turned projects from my past and finish them up. This involved a fair bit of dry turning, which I have been shying away from in my recent past due to sawdust, noise and preferred aesthetics. Though most of the turning that I have been working on in the program has been with green wood, I have also found a variety of projects that just work better for me using dry wood. I am grateful that my woodturning education started out with dry wood then transitioned to green wood because I am now able to use my knowledge about wood movement and checking to make appropriate decisions about when each method is most applicable. Moving forward, I will continue to use dry wood for turning handles for the dustpans I am making, certain kitchen items that need to be round (i.e. rolling pins), and occasionally for items such as plates. Because of how wood moves as it dries, a really large log is needed to turn a plate that does not warp, and since we are not known for gigantic trees on the North Shore, I have gotten around that by occasionally turning them with dry wood.
Folk Art Retreat: My next blog post re-capped a weekend I spent at the Odden-Bigton farm with numerous other artisans. We spent a lot of time sitting around and talking about Norway, apprenticeship, craft, and more. Out in the shop, Else gave me introductory tutorials on surface carving and we played around with designs that could be carved on handles of bowls. Though I did not continue on with the traditional Acanthus motifs that she does so well, I did play around with surface carving inspired by my own interactions with the world, and am excited to continue exploring these methods on bowls, brooms and more. The photo below is my favorite thus far – a spouted bowl for serving maple syrup on the breakfast table.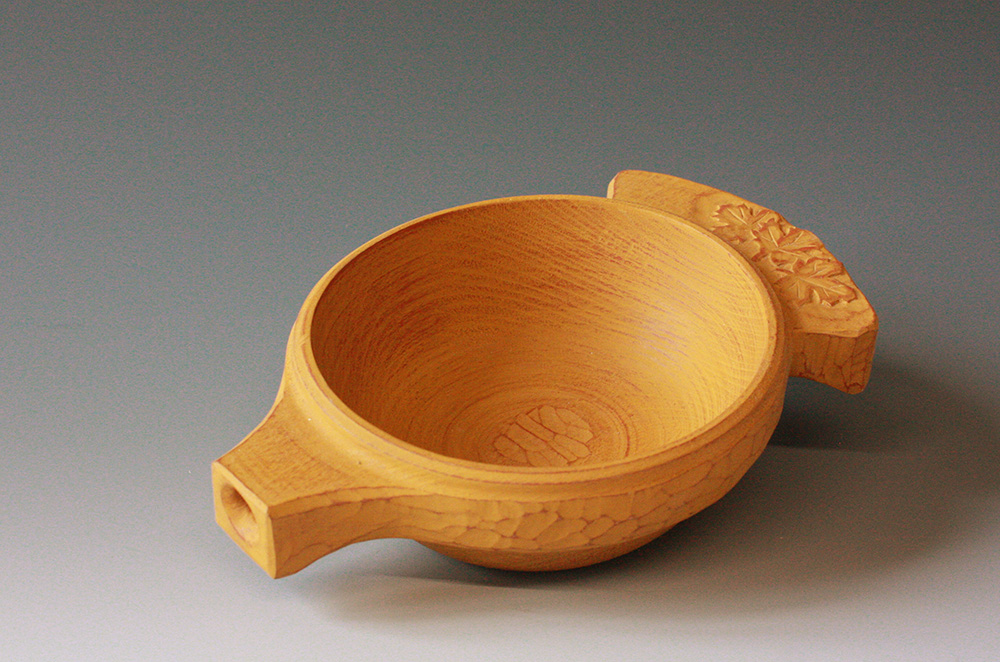 Stacked birch bark and antler pens: In this blog post I talked about an experiment I was working on making what I referred to as pukko pens, by laminating birch bark, antler, wood, and leather, then turning it on the lathe. I had a lot of fun learning about turning materials other than wood and thought it was a fun way to play around with traditional methods and designs in very modern ways. I have not made any of these since that blog post, but might re-visit it in the future.
Breton Spoons: My next adventure was a class with Jane Mickelborough at the Milan Village Arts School Spoon Gathering. Jane focuses on traditional spoons from the Breton region of France. These not only have a very distinctive shape, but also have very ornate chip carving that is filled with colored sealing wax. As of the time of the class, Jane had recently started adding brass tacks into her spoons – an element that she had seen in traditional Breton-style furniture. Though I have not carved a spoon since her class, I have been doing a lot of chip carving and adding brass and copper tacks into broom handles and dustpans. I will definitely continue drawing on her lessons and inspiration and hope to also expand to using these methods on bowls and other kitchenware.
Old Finnish spinning wheel: This old spinning wheel that had been donated to North House needed a bit of love. Enter a skillset that involved dry-wood turning, pen turning (or turning using a pen mandrel), replication, and joinery. I was assigned the task of repairing the bobbin that came with the spinning wheel, as well as making a couple of replicas. I had a lot of fun with this project and learned about the intricacies of replication. I have not since had the opportunity to work on a project like this, but I know something will come along that will allow me to use the skills I gained while repairing and replicating this bobbin.
Shrink box exploration and spice jars: The next two blog posts I wrote were about shrink boxes, spice jars and chip carving. In the first, I went through the process of making a spice jar-sized shrink box, then in the next I focused on my methods for using a free-form chip carving method to carve the name and image of each herb and spice onto the jar. I have still been enjoying this project and have prototypes for six different sets and ideas for a lot more. Over the next year I will be exploring whether I can make these sets at a price point that sells… often the hardest part of making a living from craft! I have varied my methods a bit since the time of writing these blog posts, but I still use a combination of drilling, wood turning and carving. The prototypes have been slowing migrating to my home to use in my own kitchen and to ensure that the lids seal sufficiently and that the contents stay fresh for a sufficient amount of time.
Emily Dickinson brooms: Poetry about brooms! Who knew? Since learning about the poem "She sweeps with many colored brooms" by Emily Dickinson, I have found four additional poems by a variety of authors that speak of brooms or sweeping. I have taken a slightly different direction from carving each and every line of the inspirational Emily Dickinson poem (as I was focusing on in that blog post), but I still love the idea of poetry carved into a broom handle. I am combining lines of poems with color and/or images and experimenting with ways to orient the writing on the handle. Wouldn't you prefer to think about poetry rather than dark corners, dirt and debris while sweeping? I am planning to continue working around this theme in my broom making and I love that it combines wood carving and broom making. Oh, and the very first poem I carved in a broom a few years back… I got to jump that very broom with my sweetheart this past fall! (For those of you who are not familiar with the tradition of jumping brooms, I recommend looking it up – broom trivia!)
Winter camping: So then I wrote a post about a winter camping trip that I went on with a few other North House instructors and friends. It is so important to get away from the studio to get inspired and be reminded of the true role of sloyd in life. I love being able to make things to sell – to contribute to other people leading lives surrounded by handmade objects. But what I love even more is being surrounded by handmade objects in my own life. In this post I highlighted some of the handmade things in my cabin that contribute to my daily life, as well as the handmade objects I took with me on the winter camping trip, which literally helped keep me alive. Though a huge portion of my time this past year has been consumed by the Artisan Development Program, I have still had some time to create and harvest for my own life. I have sewn clothes, tanned deer hides, knit socks, brewed beer, woven baskets, made shoes, and much more. I always have a long list of projects waiting to happen and I look forward to continuing to craft outside of "work time".
Handmade dustpans: As a broom maker, I have continually been asked where to find a handmade dustpan to go with my handmade brooms. This project was years in the making and I was assisted on my journey by a small grant from the Arrowhead Regional Arts Council, which helped pay for new materials for me to experiment with as well as tools for working with those materials. In this blog post I talked about the variety of dustpans that I was exploring using materials ranging from a solid piece of pine to laminated hardwoods, leather, and birchbark. I have spent a significant amount of time on dustpans over the past year and have continued to hone my methods and aesthetics. I look forward to continuing on in this journey of refining the dustpans I make and figuring out how to make them more efficiently and in larger batches.
Southeast roadtrip: On my list for my time in this program was to go on a trip to visit a number of skilled artisans and craftspeople who I knew or knew of in the southeastern US. I packed up my truck and hit the road with stops at the Langsners' and the former Country Workshops, Asheville, master chairmaker Tom Donahey, a number of craft schools, Berea College, and much more. For four weeks I was immersed in traditional craft of Appalachia and learned new tips and tricks for broom making, solidified a few wood working skills, found heaps of inspiration, and made new friends. This very positive experience put me on the right track for preparing to travel abroad alone for a few months and has continued to serve as inspiration for my craft.
Scandinavia – Blending woodcarving and broommaking: And then I found myself in Sweden at Sätergläntan institute for Slojd and Handwork. It was here that I came across three brooms made by Wille Sundqvist that I absolutely fell in love with. They were of a design I had never seen before and the handles were intricately chip carved in a method akin to that seen on many of Wille's spoons. I have not yet had the opportunity to try to make one of these, but you can bet that it remains at the top of my list of new projects to try in the broom world! These did inspire a few brooms that I completed recently with chip carving on the handles.
Time learning about Sámi culture and history: Which brings me to my most recent blog post. I do want to take a quick moment here to apologize for some of the wording in the email advertising this post. I have tried really hard to be careful about how I speak of this time had no intention of my time there being described as "Sámi Adventures" nor claiming to have returned with "Sámi Wisdom." I spent six days with a Sámi woman who taught me a lot about her culture and life and how she interacts with the world around her. My time with her was adventurous, and interesting, and thought-provoking, and intense. I also understand that I need to be very cautious about cultural appropriation. I spent time with her because I wanted to be a better citizen of this world, and I think to do that I need to interact with people who have cultures and histories very different than my own. I also learned about craft and food, but within that we had numerous conversations about what is appropriate for a non-Sámi person to take from an experience like that. My approach to life has changed since that time, and I am sure that there will be some level of influence on my craft as well, but I have no plans to take Sámi symbols and carve them on my bowls. I have experienced some confusion since that time, as I have seen similar patterns and symbols that I saw on Sámi objects in spoons and carvings from southern Scandinavia and other parts of the world. Cultures interact and share ideas and inspire the future. So as I continue on this journey of understanding and respect, I also recognize that things are messy and there are not always clear boundaries of what is ok and what is not ok.
Oof da! That felt long, but was a very short summation of two years. Thank you for following me on this journey, to those of you that I see once in a while and ask me how things are going or where things are going. And that brings me to the culmination of these two years. I will have an exhibition of my work at the Johnson Heritage Post from January 3rd through 26th. There will be an opening reception on January 3rd from 5-7 pm, so if you are fairly local it would be great to see you there! Unfortunately, I will not be able to showcase everything I have worked on during this time (the gallery requires a certain percentage of the work displayed to be available for sale and there are just too many things I do not want to sell from these two years!). The exhibition will be focused on a general "coming together" of what I learned during this program and will set the stage for the direction I am planning to go in the near future. I do expect that a fair bit of my time will be spent on production broom making, but I will be adding artistic twists and paying homage to my Norse pagan roots and continuing to explore the interconnectedness of various craft forms and of life.
And remember that you can always stay updated on my current craft and life adventures by following me on Instagram @marybethgarmoe.