Unplugged X
Posted on September 22, 2011
Unbelievable! What a wild weekend of fun events and music. I don't even know where to begin. The enormous tent was assembled in the parking lot on Tuesday and part of Wednesday. We utilized every square inch. Storms were threatening, but the crew managed to assemble our temporary amphitheater without problems. The Mountain Stage crew was here on Wednesday as well. They had a chance to relax and see the sights here on the North Shore before setting up for the show. That evening we hosted a large pizza bake and had a chance to eat, drink a few beers, and get to know everyone. This was a test for our brand new oven. Seventy beautiful pizzas later, I am happy to declare that it is formidable baking machine. The night was a blast; we even had the chance to sample some "sweet West Virginia water" that was brought along to aid the festivities.
Mean not-so-lean baking machine.
What a tent!
Thursday was a big day full of final preparations. Space was arranged for mini-classes that are designed to give students a taste of the craft opportunities here at the school. The Mountain stage crew began early setting up their sound equipment and getting all their gear ready to record the radio shows. As we ran around campus setting up for the events to come we got a preview of the night's music as we listened to the musicians during their sound checks. Chairs popped up in precise rows under the protection of the tent thanks to the handiwork of fabulous volunteers.
The blue building was being arranged for our silent auction. There were many beautiful hand crafted items that friends of North House generously donated to the cause (including a handful of intern crafts: go team!).
I was responsible for maintaining the "green room" which was nestled in our lovely new kitchen class room in the fish house. The most important piece of this vital responsibility was eating pie four times a day with as many talented musicians as possible. I did what I could to get the job done.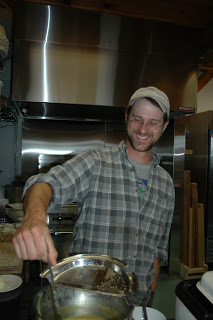 Curried butternup squash and apple soup from the Pie Place.
The concert on Thursday night was a roar. The Mountain Stage crew and musicians were all in a goofy mood which made for a wildly entertaining show. Being a listener of Mountain Stage, it was great seeing Larry Groce up on stage cracking jokes and navigating the down time in between musicians.
Friday came fast. Round two of Mountain Stage was ready to roll, the silent auction was well underway, and folks were lining up to get last minute rush tickets for the sold out show.
Lucy, Jessa, and volunteers arranged the III things Folk artisan assembly exhibit. Various North House instructors and friends were asked to bring three craft items; one project that highlighted their beginnings, one that represented their work as they began to master a particular craft, and a final piece that highlighted where their work is headed. The display was awesome. I think it's important for people to see the progression of talented artisans. Moral of the story, you have to start some where.
The concert on Friday night was a hit. The tent was packed and people were hanging outside trying to get a peak of all the excitement. I moseyed back towards the fire ring which was blazing away about 50 feet from the tent. Some of the sound crew guys were hanging out and relaxing by the fire, listening to the show, and joking back and forth. They told me, chuckling, that this was the best back stage bonfire they ever had. What a venue!
Saturday was the final concert and was packed with activities. The exhibit was in full swing, folks browsed through the auction items a bit more, there were knee slapping music circles popping up on campus, Hjordis was taking passengers on to the big beautiful lake, and a group of craft demonstrators were sharing some of their talents with the curious folks passing through. Again, people were lined up eager to try and grab a last minute rush ticket for another sold out show.
Lee making a willow basket.
Jarrod Stone-Dahl turning bowls on his spring pole lathe.
Time flew. That evening there was a dedication for the new commons area that is about to be created here on campus. Celebratory cake was shared followed by a live auction of some of our timber frames as well as our trusty old wood-fired brick oven. She found a new home and will continue cranking out wonderful pizzas and bread. John Vezner and Michael Johnson, two of the talented unplugged performers, offered their services as musicians and story tellers as an auction item. A deal was struck with four interested parties resulting in a tour of private house concerts and a generous donation for the North House endowment. The silent auction wrapped up after the live auction excitement followed by one last night of great music.
The final show was excellent and once again the house was packed. Greg was even graced with his own special song as the evening's encore.
Sunday was a day for processing all the action and getting everything ready for the new commons area construction. Campus went from a 750 seat music venue to a naked parking lot. No timber frames, ovens, boats, saw horses, cars, piles of timbers, nothing. It was quite the exodus.
Thank you to everyone that helped out with the event. We had an enormous group of dedicated volunteers, and the event would have been impossible without all their help. It was amazing to see everyone participating to keep the ball rolling along smoothly through out the event. Way to go everybody!
Stay tuned for updates on the commons project as well as news from Hostfest 2011.