What's it Like to Work at North House?
Programs and pizza bakes, classrooms and catalogs—what is working at a folk school really like?
On a February afternoon, students and staff at North House Folk School gather near the shore of Lake Superior. It's Fiber Week, and those on campus are assembling around the campfire for fika, a break where people get the chance to meet, drink coffee, and chat about craft.
Whether it's conversations over slices of woodfired pizza or students collaborating to build a yurt, connections are formed through hundreds of moments like this on the North House campus each year. In 2022, more than 2,300 students connected to the school through approximately 300 classes, in addition to thousands of visitors who connected with the many community programs and public events held throughout the year.
None of these things, of course, happen on their own. So what about the people behind the scenes? What's it like to work at a folk school on the shores of Lake Superior?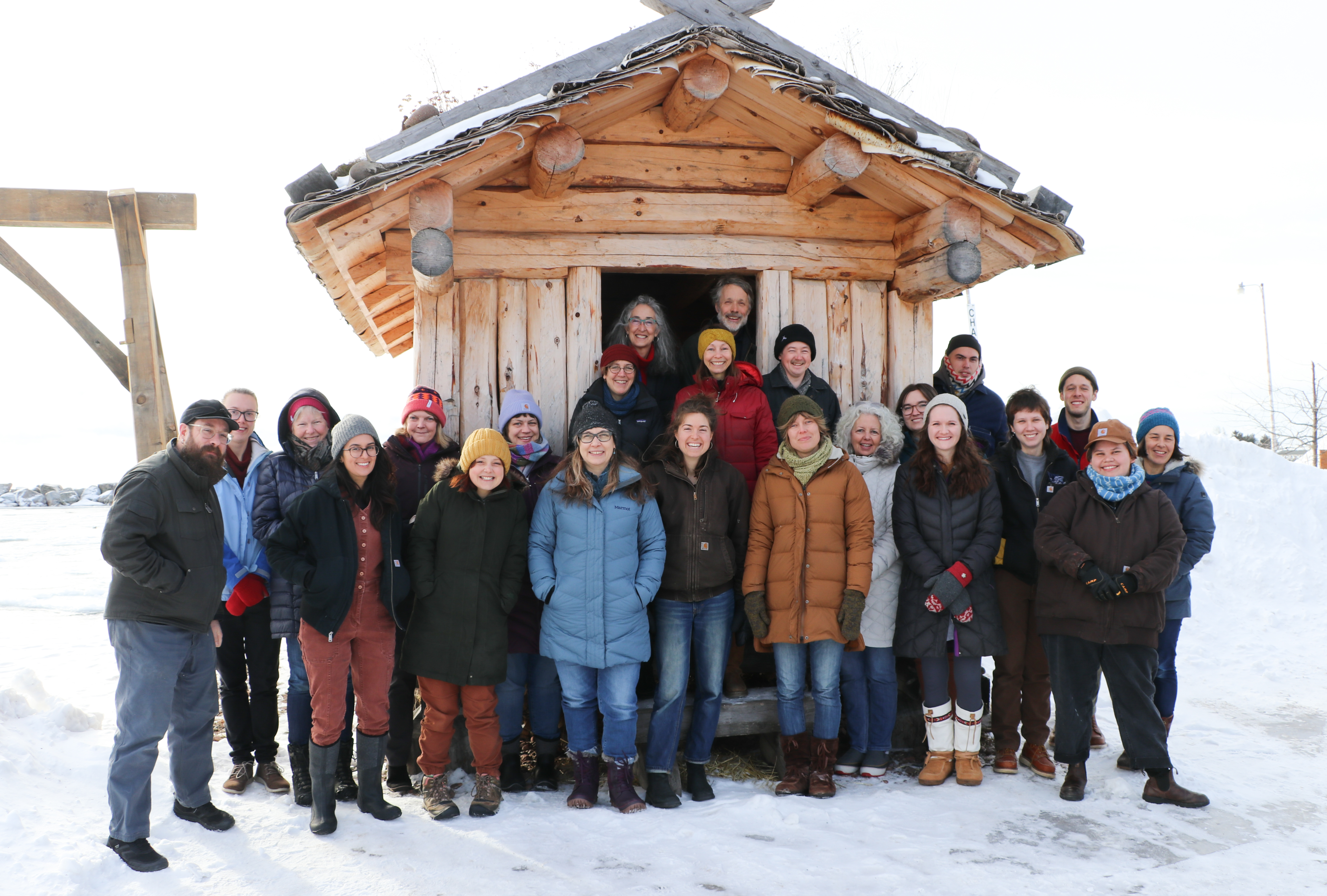 North House was started by a small group with a big vision in 1997. With classes expanding and momentum increasing, Greg Wright, Executive Director, became North House's first full-time employee in 2002. As time went on and the school grew, North House grew its team along with it. Currently, North House has 18 regular staff in addition to four interns and four resident artisans. With the help of volunteers, this dedicated crew does everything from planning programs to setting up classrooms to organizing fundraising events to hosting pizza bakes. Recent years have welcomed multiple new folks to fill both new positions and openings following mid-pandemic retirements and departures.
One of North House's newest employees is Rae Poynter. Rae stepped into the role of Communications & Marketing Manager in late 2022, having previously worked in media and education in Cook County.
"I've had family and friends ask what a typical day at North House is like, but what I like is that there's not necessarily a 'typical' day," Rae said. "Each week there are different people to meet, different classes to photograph, and different programs to spread the word about. There's an abundance of activity and creativity on campus that I find really energizing."

Nestled between Lake Superior and the Boundary Waters Canoe Area Wilderness, Grand Marais has a lot to offer for a town of only 1,300, especially for those who have a creative bent or love spending time outdoors. Life on the North House campus is deeply rooted in place, with crafts that utilize materials native to the region and activities that change with the cycle of the seasons.

The creativity and natural beauty of the Grand Marais area were among the things that drew Jennifer Starbright to North House. Jennifer, the Registrar & Administrative Coordinator, started in her role in April 2022, having previously worked as a registrar for an art museum in the Twin Cities.
"I'm very happy with my move to North House. Some of the best parts about working here are being surrounded by and supporting craft and creativity, feeling a shared sense of purpose with my colleagues, and living amongst the abundance of natural beauty on the North Shore," Jennifer said.

The sense of community runs strong on the North House campus; in an era where almost any information can be found online, the experience of coming to campus and learning with others is something that can't be replicated.
"The experience of community at North House is one of the things I love most about being on staff," said Liv Sulerud.
Liv is North House's Administrative Director. A perennial work study volunteer, Liv moved to Cook County and started the job in early 2022.
"Connecting with students, instructors, volunteers, and visitors brings so much richness to my life and work, while the shared sense of purpose and fun I have with other staff is something I'm grateful for every day," Liv said.


One of the staff roles that plays the biggest role in fostering community at North House is the Program Manager. Alex Blust stepped into the role of Program Manager in late 2021, having recently completed her involvement in North House's Craft Education Internship. As Program Manager, Alex had a people-focused role; some of her work involved coordinating North House's Internship Program and Artisan Development Program, two programs that bring creative individuals into the North House community.
"I really enjoyed learning from the interns and resident artisans. They are incredible craftspeople and were eager to be involved with moving the school forward. It was fun to be part of that energy," Alex said.
In addition to that, Alex's work also had a special focus on working with the local community to provide more courses, events, and opportunities to Cook County residents.
"I loved planning and hosting community programs," Alex said. "This meant that sometimes I was tapping my foot to the swing band when they played here or corresponding with local instructors, or meeting with the Cook County Local Energy Project to work on joint programming! All of that work to serve the local Cook County community was really delightful!"
Join the team!
Toward the end of 2022, Alex moved into the role of Classroom Manager at North House. With Alex in a new role, we are looking for someone to become North House's new Program Manager. Individuals with experience managing people and programs with skillfulness, creativity, and good humor are encouraged to apply.
If you or someone you know fits this description, check out our job listing to learn more and request an application packet. We'd love to hear from you!

Campus photo by Bryan Hansel