Birch Bark Large Tote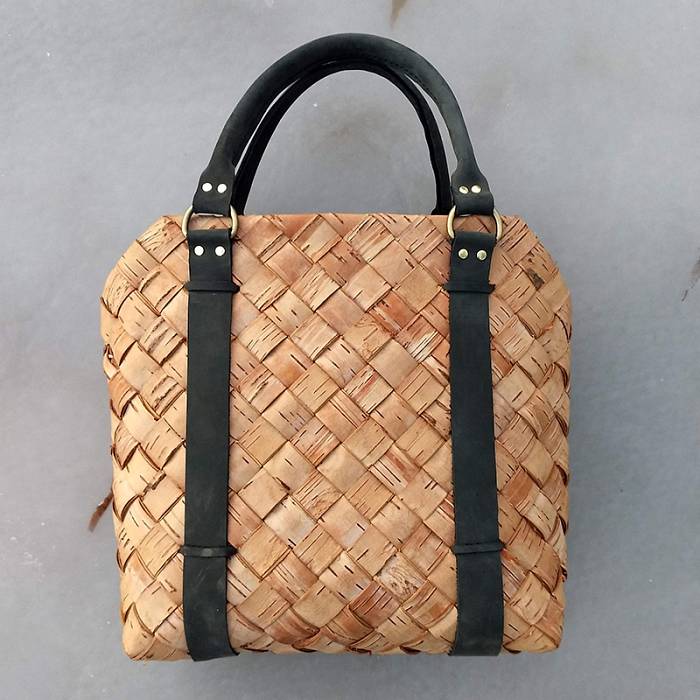 Course Overview
Carry around your studies, tools, or groceries in this beautiful and functional large birch bark tote basket. Students will learn about sustainable techniques for legal harvest and then use hand tools to prepare their 1 inch wide bark strips, and weave them into a tote base. The bag will be woven using the double diagonal plaited weave pattern and the rim edge will be reinforced with a black ash splint hidden inside. Lastly, students will add two short strap handles that wrap around from the bottom of the bag allowing maximum tote capability. If time allows, students may add an interior pocket. This project uses freshly harvested bark (harvested in July 2020), which has a surprisingly different feel than bark that is even slightly less fresh. Because of the quantity and quality of the bark needed for this project, it will only be offered once this year in a small class setting. Note, this is not a backpack class.
Session Information
North House is looking forward to hosting this course on campus in the safest way possible. Students will be asked to wear a mask at all times on campus, and to practice social distancing of 6 feet, as well as adhere to other safety protocols. See the full details of our COVID-19 protocols here.
Dates
Sat, Sep 26th, 2020 – Tue, Sep 29th, 2020
Course Details
Skill Levels:
Beginner to Advanced
Hours:
Days 1-3: 9am-5pm; Day 4: 9am-noon
Intergenerational age:
N/A
Additional materials fee paid to instructor when class starts:
Varies ($160-$200)
Required
You will need the following tools for this class:
All required tools/materials are provided by your instructor and North House and will be available once the course begins.
Optional Tools
Feel free to bring your favorite tools and whatever materials you might feel appropriate for this course.
More Information
Once registered, students will receive a confirmation email with further class information. Please call us if you haven't received it within 24 hours.
Birch Bark Large Tote - 9/26/2020