Blacksmithing & Toolmaking
Blacksmithing: Crafting The Tools of the Trade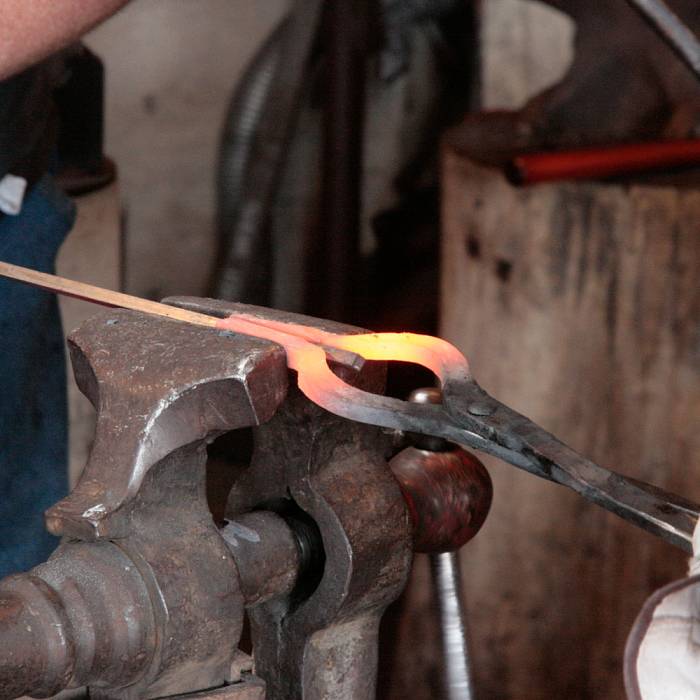 Course Overview
Outfit your own blacksmithing tool chest while developing and refining your skills on the forge. In this course, you will create the set of tools needed to become a backyard blacksmith, while simultaneously learning the basics of blacksmithing. Initial tool projects will include tongs and fire-tending tools. Heat treatment, forging, fire types and more will be covered as you cultivate both your skills and your tools. Chisels and punches will also be crafted as time allows. Forge-welding may be discussed. This class is suitable for beginners and for those who would like to continue their learning. Materials fee includes the use of coal/gas for forgework and the cost of steel, etc.
Dates
Mon, Sep 9th, 2019 – Wed, Sep 11th, 2019
Course Details
Intergenerational age:
N/A
Tuition:
$480.00
Materials fee: $195.00
Required
You will need the following tools for this class:
leather gloves
jeans
cotton shirts (no nylon clothing)
leather shoes
clothing comfortable to outdoors-in
Optional Tools
safety glasses
ear protection
your favorite blacksmithing hammer (non claw types - 1-3lb hammer)
good file for steel
tongs or over-sized pliers
steel punch
steel chisels
vice grips
channel locks
ball-peen hammer(s) and/or heads to be modified into a suitable blacksmithing hammer
any hammer heads that you'd like to use (non-claw)
camera
4.5" grinder
More Information
Once registered, students will receive a confirmation email with further class information. Please call us if you haven't received it within 24 hours.
Blacksmithing: Crafting The Tools of the Trade - 9/9/2019