Felt Your Feet: Slippers or Boot Liners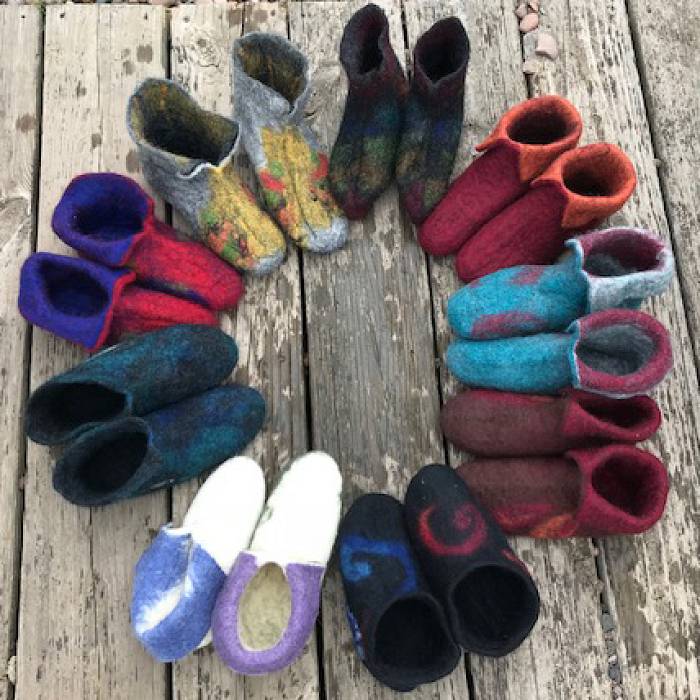 Course Overview
Warm up winter by making your own woolen slippers, slip-ons, cuffed or boot liners. Using the ancient no-knitting wet felting technique, you will make a cozy, warm pair of slippers or boot liners, any thickness you desire. The craft hasn't changed in centuries; a simple, almost magical technique that transforms fluffy wool into a durable thick material that is sculpted to the owner's foot through patient, energetic agitation. Supposedly, the all-wool liners are warmer than the poly fiber mix that is so prevalent, but you'll have to be the judge of that yourself. Students who choose to make slippers rather than boot liners can anticipate completing the project by early to mid afternoon on day 2 and can choose to make a small felted project, learn needle felting slipper and sock repair or leave a bit early. Be prepared for physical exertion and being on your feet for this project. We will discuss options for adding soles. Leather soles will be available for purchase. If you want to make your own winter boots, felt your boot liners and then make Mukluks with Jo Wood after this class! Students ages 12+ are welcome to take this class.
Materials Fee
Approximately $35-60 payable to the instructor during class
Tools
Two large towels
A bag to carry home wet supplies
A large sponge
Comfortable shoes for standing
Optional Tools
If you'd like to use your own wool, you may bring it and we will test its suitability for the project.
Session Information
Students interested in making boot liners for a fully handmade set of mukluks should consider registering for the Expedition Footwear: Canvas and Hide Mukluks course offered immediately following this course.
This course is part of Winterers' Gathering 2022! Plan to stick around for a weekend filled with northern stories, films, and more. The event begins on Thursday, November 17 and concludes on Sunday, November 20.
Dates
Wed, Nov 16th, 2022 – Thu, Nov 17th, 2022
Felt Your Feet: Slippers or Boot Liners