Felted Crochet Wool Rug: Online Course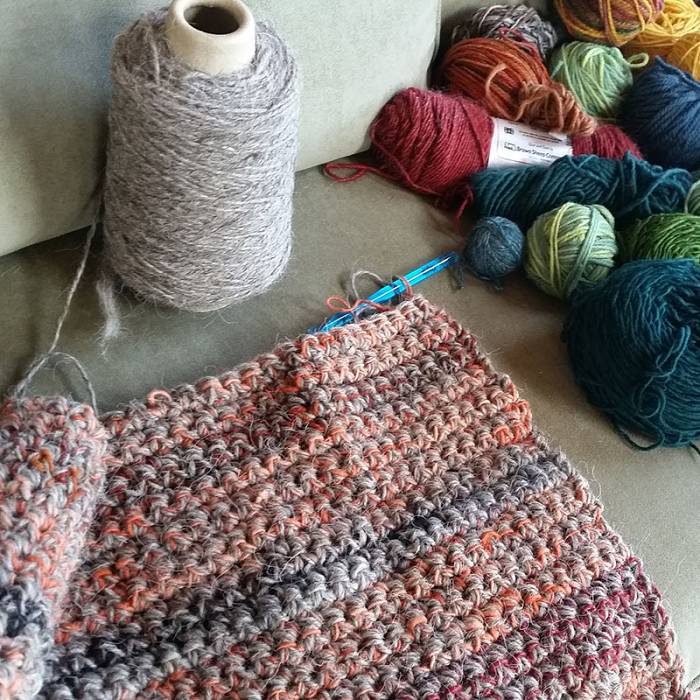 Course Overview
Have you ever accidentally felted something in the wash—oops! Or have you seen felted knits and wondered if you could do that with crochet? This class not only unlocks the process and tricks for felted crochet but also lets you felt in the wash and by hand on purpose to make a beautiful, durable wool rug. And guess what, you can machine wash that rug later, for happy bare feet for years to come! Students who know how to make chain and single crochet stitches will have the background needed to tackle this project. Once you get the knack for it, if you have a stash of odds-and-ends wool yarn, you'll soon be put it to use making more rugs.
Approximate finished project dimensions: 23 x 32 inches. (Unfelted dimensions about 29 x 37 inches)
Session Information
In order for the instructor to have time to mail out materials, registration for this course closes on January 22nd. Shipping fees are included in the materials fee for folks registering from the contiguous United States. If you are registering for this course from outside of the contiguous United States, please call our main office (218-287-9762) before registering to find out what additional shipping fees may be incurred as part of your registration.
Course Details
Skill Levels:
Beginner to Advanced
Hours:
10 am-noon CT each week for three weeks
Intergenerational age:
N/A
Tuition Note:
Additional materials fee of $165 applies if you choose to have yarn sent to you
Required
You will need the following tools for this class:
Students can select to have a kit of materials mailed to them, or can opt to use their own materials for this class.
If you select the mailed materials, here is what is included in the kit:
Adequate yardage of your color choice wool from Laura's farm's sheep and Icelandic lopi (4 skeins lopi, 3 skeins colored wool)
Written pattern and felting instructions
Access to video tutorials of Laura demonstrating the key steps in the process, for review before or after classes
(Students providing their own materials will have the written pattern and video tutorials emailed to them.)
All students will need to have:
Size N crochet hook (yup, it's big)
Tapestry needle for burying ends (if you like that technique)
A washer and dryer (if you choose to use a laundromat, that's fine, you'll just repeat the steps you learn for this part when it works for you)
Non-detergent bar soap (for hand-felting, doesn't need to be much)
A utility sink (bath tub could also work if you don't mind kneeling, or a large bin)
A couple older beach or bath towels
A space to block your rug that is water-resistant (this could be the top of a chest freezer, a tile floor, or a table covered in plastic)
(See notes at the bottom of the yarn section regarding if students want to use their own yarn.)
Color Choices for mailed materials kits: Laura has created curated color palettes using wool from her farm's sheep for your selection—click the links below to see each color palette.You are welcome to bring extra wool, alpaca, or novelty yarns from your stash to include in your rug as well, and she can help coach you on what will or won't work well for your project during class.
Optional Tools
If you opt to provide all your own materials for this class, you will need the following:
440 yards of a coarse lopi (chunky, loosely spun single ply)
440 yards of colored preferably wool yarn of your choice, totaling around 28 ounces.
More Information
Once registered, students will receive a confirmation email with further class information. Please call us if you haven't received it within 24 hours.
Felted Crochet Wool Rug: Online Course - 2/5/2021