Kuksa Carving: Traditional Scandinavian Drinking Cup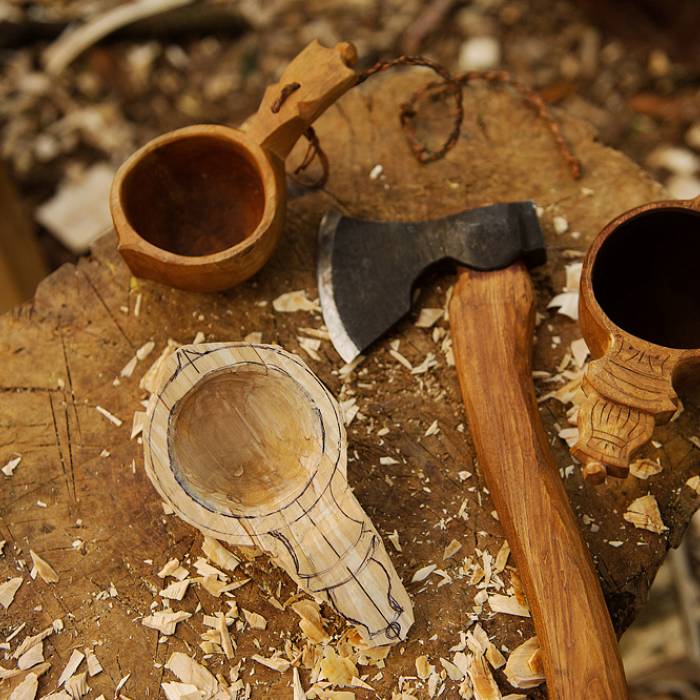 Course Overview
The kuksa is an old-style wooden cup made to travel far and wide and be at the ready, whether the beverage of choice is water from a Boundary Waters lake, coffee of any quality, or even a splash of something stronger (so we've been told). Over three days, students will immerse fully in the world of green woodworking, using common tools like axes, adzes, gouges, hook tools and of course, the versatile slöjd knife, to shape freshly harvested birch into a one-of-a-kind vessel. By crafting a kuksa, which is more than a spoon but less than a bowl, students engage in a wide array of techniques and tool usage that bridges the gap between spoon carving and bowl carving. This course will cover sourcing wood, carving, tool technique, safety, and tool maintenance. While students with minimal skills are welcome, some experience using a knife, axe, and sharpening tools will be very helpful. Specialty tools will be available to borrow; students should plan to bring a carving axe, hook tool and slöjd knife.
The goal of this workshop is to gain confidence in yourself and the tools being used. Spend three days building a relationship with each specific tool—the axe, adze, gouge, froe, straight and hooked knives. This is the key to understanding the function of tool and timber.
Session Information
This course is part of Wood Week! Plan to attend the Carvers Conference on March 6, a day of speakers, demonstrations, skill shares and community gatherings free for all enrolled students, including the rare mid-winter pizza bake. Come early or stay late! Full schedule available in early 2020.
Dates
Sat, Mar 7th, 2020 – Mon, Mar 9th, 2020
Course Details
Skill Levels:
Intermediate to Advanced
Intergenerational age:
N/A
Tuition:
$310.00
Materials fee: $25.00
Required
You will need the following tools for this class:
Axe*
straight sloyd knife*
hook tool
ruler
compass
pencil
strop
*available for purchase in the NH School Store, a limited number are available to borrow as well. Please indicate your needs at the time of registration.
Optional Tools
gouges
adzes
carving or leather gloves
More Information
Once registered, students will receive a confirmation email with further class information. Please call us if you haven't received it within 24 hours.
Kuksa Carving: Traditional Scandinavian Drinking Cup - 3/7/2020