Sámi-Inspired Friendship Bracelet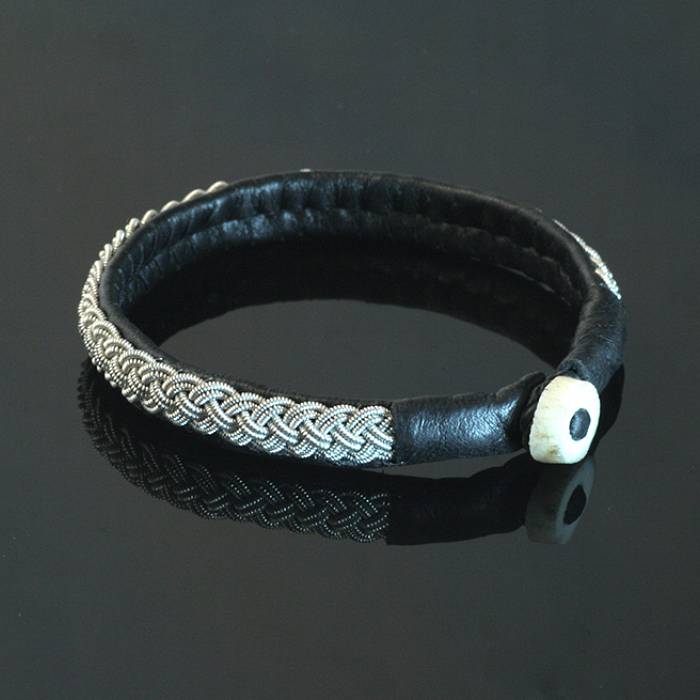 Course Overview
The serene and dramatic landscape of northern Scandinavia is the land of the midnight sun, the northern lights and the Sámi, a nomadic tribal group that follows the migration of the reindeer. Traditional Sámi adornment incorporates elements of their northern landscape—softened reindeer leather and sculpted antler. In this course you'll explore the traditional techniques of triple braiding coiled pewter wire and sewing the finished braid to a softened reindeer hide strip. A reindeer antler button finishes off the bracelet. With a 30-year background in Scandinavian jewelry arts, Liz uses the finest quality vegetable tanned "svart" (black) reindeer hide and pewter wire comprised of 96% tin and 4% silver imported directly from Sweden. A materials fee of $95 per student will be collected by the instructor at the conclusion of class.
Course Details
Skill Levels:
Beginner to Advanced
Intergenerational age:
N/A
Additional materials fee paid to instructor when class starts:
Varies (approx $95)
Required
You will need the following tools for this class:
Students need to bring magnifier glasses if needed. Students will also need to bring thimbles if they are not accustomed to sewing.
Optional Tools
Feel free to bring your favorite tools and whatever materials you might feel appropriate for this course.
More Information
Once registered, students will receive a confirmation email with further class information. Please call us if you haven't received it within 24 hours.
Saami-Inspired Friendship Bracelet - 9/11/2019