Traditional Swedish Linen Shirt, Sewn by Hand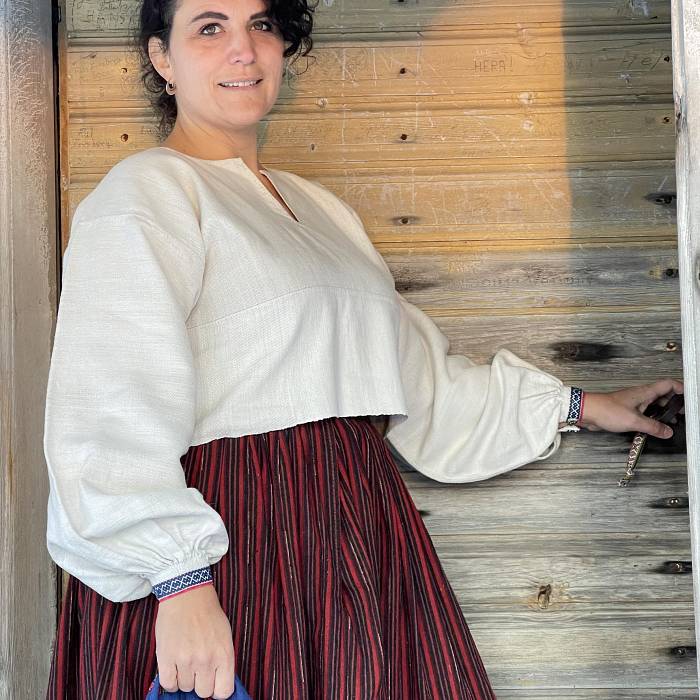 Course Overview
A linen shirt is a vital part of traditional Swedish folk dress for both men and women. It also makes a natural, breathable, and sophisticated contemporary garment worn on its own. Working with guest instructor Johanna Runbäck from the Sätergläntan Institute of Handicraft in Dalarna, Sweden, participants will begin a linen shirt from a pattern modified to their individual needs. Participants will learn a variety of stitches (backstitch, hemstitch, buttonhole stitch, and more), and create a muslin mockup before piecing together the shirt itself. This shirt has been part of the Swedish folk costume tradition for many hundreds of years and is still used in many places. The garment is primarily a women's garment but can be adjusted to suit men as well. The seemingly simple project, which is cut from straight pieces of fabric, presents many opportunities to incorporate details that will challenge and stretch sewers at any level. 
This project will be of interest to anyone wishing to improve their skills in pattern-making and working with linen, and to anyone interested in historical clothing. Some experience with hand and machine sewing is helpful. Given the time constraints, students will likely complete their project at home, but will leave class with a good start and a strong understanding of all the skills needed. Note, a materials fee of approximately $100 depending on fabric choices will be collected during the course. 
Required Tools
Paper scissors

Fabric cutting scissors

Smaller scissors for clipping and trimming

Seam ripper

Tape measure with metric markings (cm)

Tape

Hand needles in different lengths and thicknesses.

Pin cushion

Pins

Thimble

Beeswax

Fabric marking tools (such as pencil, disappearing marker, chalk, wax)

Clear plastic ruler (suggest 2" x 18" type used by quilters which cost about $9.00) with metric markings (cm)

Spool thread - white and a color-of- your-choice that works on your sewing machine

Thread for basting

Pens, pencils

Notebook

Muslin for Mock up  in good quality cotton fabric for sample garments.

Sewing machine – If you own a portable sewing machine, please bring it to class. Test it before coming to class to check that it is in working order, and know its basic operations. If you cannot bring one, North House has machines you can use, and you will be given basic instruction for their use. Also bring: Sewing machine needles and bobbins to fit your machine.
Included in materials fee,  so you do NOT need to bring them:
Instruction packet

Grid pattern paper

Mark B Gone washable marker

Classroom supplies/Other notions for patterning and sewing
Optional Tools
You are encouraged to also bring along any sewing tools that you enjoy using for hand and machine sewing.
Session Information
North House is honored to welcome a delegation from Sätergläntan Institute for Slöjd and Handcraft in Dalarna, Sweden. Founded in 1923, Sätergläntan has trained generations of craftspeople, preserving and carrying forward centuries-old Scandinavian handcraft traditions in woodworking, weaving, sewing and metalwork into the 21st century. Sätergläntan welcomes students from around the world and continues to be a wellspring of inspiration and learning. There will be a variety of evening gatherings and opportunities for sharing with all of the Swedish guests throughout the week and during the Wooden Boat Show. 
Dates
Mon, Jun 12th, 2023 – Thu, Jun 15th, 2023
Course Details
Tuition:
$460.00
Materials fee: $40.00
Latest Update:

View recent changes →
Traditional Swedish Linen Shirt, Sewn by Hand