Viking "Knit" Chain Bracelet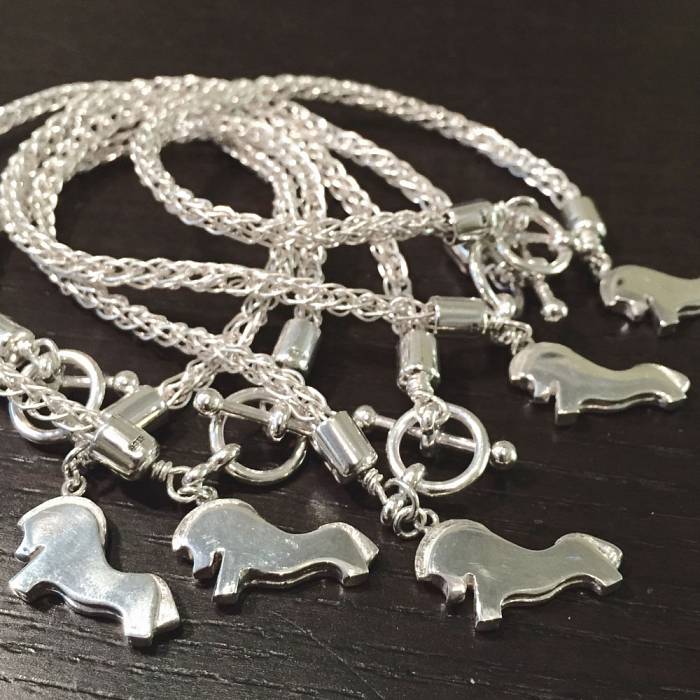 Course Overview
Come explore the ancient tradition of chain making! Students will use "Viking Knitting," a centuries-old looping technique, to create a beautiful silver bracelet with a variety of unusual clasps. Historically, this unique method of weaving resembles "nålbinding" knitting and was used to fabricate everything from sweaters to netting for catching fish. Students will have the opportunity to complete a bracelet in a single day—no previous experience required—and all tools and materials will be provided. Add a charm for an additional charge or bring one of your own. Materials fees (approximately $145) will be collected by the instructor at the conclusion of class.
Materials fee (approx. $145 payable to instructor) covers: 
13 feet/22-24 g. fine silver wire
Toggle and end caps (sterling)
Additional items provided by instructor (not included in materials fee):
Small table vise
1/8" allen wrench
Wooden draw plate
Soldering pick
Chain nose pliers
Charms can be purchased for an additional fee (or bring one of your own!)
Ability Notes
All levels of proficiency are welcome. Please be advised that good hand strength, eyesight (I recommend the addition of magnifier glasses) and the ability to sit for several hours is required.
Required Tools
Notebook
Pencil or pen
Cash, check or credit car to pay materials fee to instructor
Optional Tools
Reading or magnifying eyeglasses
Latest Update:

View recent changes →
Viking "Knit" Chain Bracelet