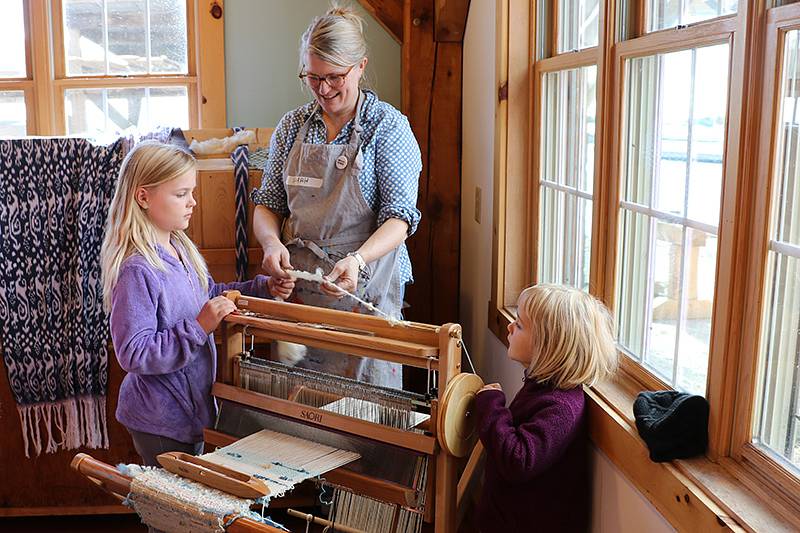 Overview
Family Week 2020 was an astounding virtual success. Join us again in October 2021.
Whether virtual or in person, we know Minnesota families will be looking forward to the MEA break this year. We will host a number of short drop-by activities for family small groups on campus: outdoors and/or windows open, masks on (probably coats too!). Drop by and observe craftspeople demonstrating or try your hand at a small family project. Materials fee varies, payable to instructor. First-come, first-served.
Wet Felting Butterflies, Bats, or Flowers with Elise Kyllo
Drop by between 10 am and 3 pm Friday and Saturday
Family groups can work together on a wet felting project, $15 per project (cash or card).
Plan to spend about 30 min at this station, first come first served.
Use the magic of soap, water, and agitation to create a colorful felted butterfly, bat, or flower!
Woodworking Projects with Paul Linden
Come by to try out a woodworking project!
Projects will start on the hour at 10 am, 11 am, 1 pm, 2 pm, and 3 pm on Friday and Saturday. Space in the workshop for up to 9 people at each time slot.
Plan to spend an hour working together on a woodworking project like a birdhouse or a toolbox with guidance from Paul.
Fee varies, $10-20 per project (cash or card).
Craft Supplies and Kits for Families
Purchase in our on campus store and make at your own pace on vacation or later at home! Stop by our school store to peruse our selection of awesome hand craft kits appropriate for kids and families. We have kits for felting, crocheting, and beginning carving as well as lots of inspiring instructional books, craft supplies and more. The school store is open noon-4 pm Thursday and 9-4 Friday through Sunday of MEA weekend.
Moose Madness Family Instagram Challenge
Whether you are on the North Shore or enjoying MEA from home this year, celebrate with our moose madness challenge! It's pretty simple:
Kids alone or together as a family: craft a creative moose! Could be a drawing, painting, woodcarving, paper sculpture, fiber art, photography, printmaking, tinfoil- whatever you can imagine!
Take a photo of your creation
Post the photo on Instagram and use the hashtag: #moosecraftchallenge (If you don't use Instagram, you can also email your submission to swaddle@northhouse.org)
We'll highlight some of the submissions on our Instagram page, and we'll enter all submissions in a random drawing for awesome prizes including North House gift certificates! (Post or email your submissions by Monday, October 19th to be entered into the challenge)